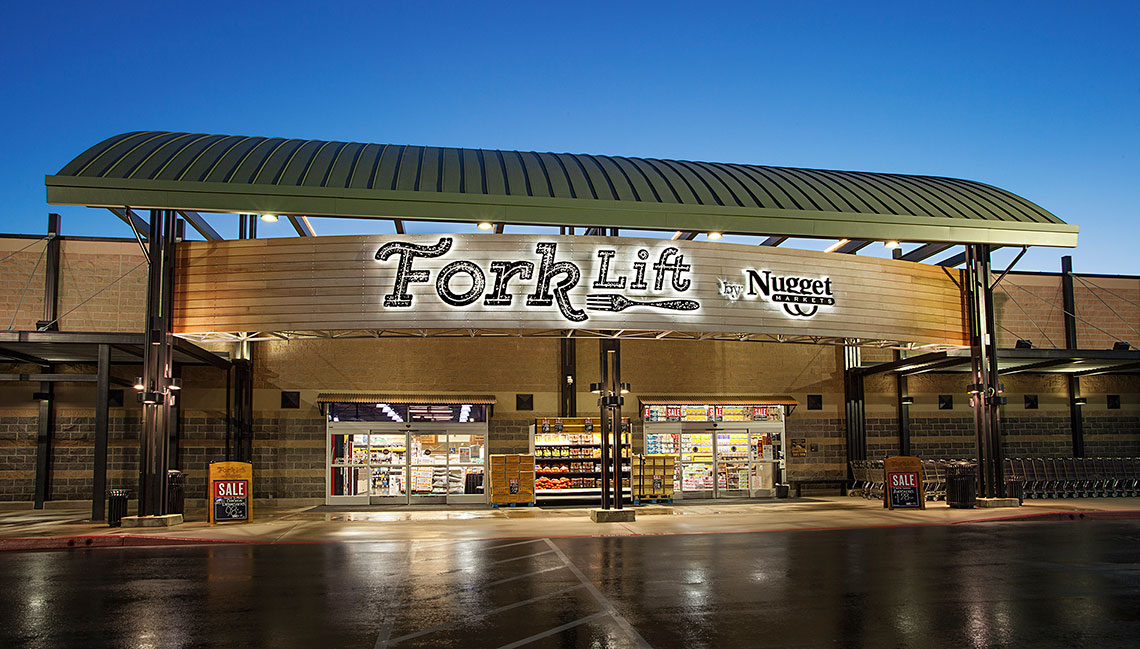 Raise your Fork to Extraordinary Savings
Here at Fork Lift, we work hard to take care of our guests, community and the environment. From local and organic options to everyday products, you'll find quality meat, fresh produce, deli dishes and more at extraordinary prices. Why? Because eating well shouldn't have to break the bank.
Fork Lift by Nugget Markets
Fork Lift is family-owned and operated by the Stille family, founders of Nugget Markets. Since 1926, Nugget Markets has been committed providing our guests high-quality, specialty products along with conventional products at the same low prices.
Fork Lift provides the unique shopping experience of Nugget Markets housed within the warehouse style format. Offering stellar guest service and warehouse pricing on an amazing selections of healthy, top-quality groceries, Fork Lift features the best of Nugget Markets' chef-prepared foods, fresh bakery goods, and an expanded selection of local and organic meats and fresh produce.
Fork Lift by Nugget Markets—Lift a fork to organics, local goods, and specialty products at warehouse prices.
Organic, Local
&

Everyday Groceries

With over 20,000 natural, organic and specialty items, the largest bulk selection this side of the western slope, and prices 10% below our competition, we are redefining what a warehouse store can be.
Adult Beverages
Browse our selection of local, domestic and imported wines. Come in and see the largest beer selection of micro-brews east of Sacramento. Our staff wine stewards aren't just wine experts, they are here to answer all your spirits and craft beer questions as well!
Healthy Living
Our healthy living section is stocked full of quality brands, fair trade products, and our own line of Fresh to Market vitamins, produced for us by Vitamer. Consult our healthy living specialists for recommendations.
Spectacular Produce
Local, organic, and conventional; our produce is delivered fresh 6 days a week. What's more, we cut our fresh fruit on-site daily. Stop in and see what's in season and pick up a healthy snack!
Full-Service Meat Counter
In 1926, Nugget Markets was one of the first grocery stores to include a full-service meat department. Your Fork Lift butcher is here to help you with recommendations, provide you with special cuts, and wrap you meats to your specifications. They also prepare our signature meat products, like our Fresh to Market Sausage!
Bakery
Our artisan breads are mixed, hand-shaped and baked fresh in stone deck ovens by Nugget Markets bakers and delivered to Fork Lift daily. We also have a delicious variety of Nugget Markets cookies, sweet treats and custom cakes, baked in-house every day.
Deli
With more than 50 chef-prepared entrees, including vegetarian selections, our Nugget Markets chefs have you covered in a pinch. We also have a self-serve grain and soup bar, full-service charcuterie, and we'll make you a sandwich!
Specialty Cheese
At Fork Lift, we are serious about cheese. We purchase our cheeses by the wheel to ensure freshness, and our in-house cheese specialists hand-select, cut and wrap our cheeses right in the store. We have an amazing selection of more than 200 varieties of conventional and specialty cheeses—local, domestic and imported.
Community Scrip Program
We're excited to partner with you in supporting local nonprofits and youth educational organizations through our Community Scrip Program.
To get started with our Community Scrip Program:
Sign up and register. It's free!
Shop at Fork Lift by Nugget Markets, present your community scrip card prior to each transaction and earn up to 4% of your monthly purchases for your chosen schools or nonprofits.